Jennings Undertakers, Head Office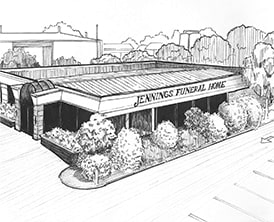 Jennings Funeral Directors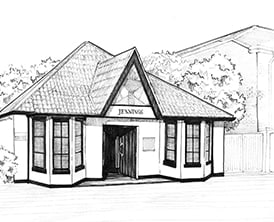 Whether the death of a loved one was expected or sudden, the passing of a life is always more of a shock than people realise until it happens. There are so many elements to organise for any type of funeral that people often tell us they feel quite overwhelmed.
Please feel free to call us with your questions at any hour of the day or night. We have experts on call at all times to provide answers for you. We can answer all of your questions, help you with every aspect of a funeral, and be a professional support for you when you need us most.
Dublin Funerals: The places we live. The locations we die. The people we honour. The Original Jennings, still at the Five Lamps - casting light in times of loss. The original Jennings Funeral Directors at Dublin's historical Five Lamps was large enough in...
read more
Paint thrown at the new Necrology Wall at Glasnevin Cemetery commemorating all who died in 1916. Here at Jennings Funeral Directors, we work in deep sensitivity around the wishes of the bereaved family in how their relative's actual names are commemorated, and so this...
read more
The death has occurred of William Burke
Shanowen Drive, Santry, Dublin
Burke, William, Shanowen Drive, Santry, Dublin. 11th January 2023, Peacefully in the Mater hospital. William, beloved husband to the late Nuala, he will be very sadly missed by his loving family Paul, Fiona, Stephen and Ciarán, daughters-in-law, son-in-law, grandchildren Colin, Owen, Niamh, Aoife, Cian, Lily, Tess, Fred, Charlie, Luke and Arthur, brother Ray, sister Joan, brothers-in-law, sister-in-law, nieces, nephews, extended relatives, neighbours and friends.
May he rest in Peace.
Reposing in Jennings Funeral Home, Oscar Traynor Road on Sunday from 2pm to 4pm. Removal on Monday to Our Lady of Victories Church, Ballymun for 10.00am mass followed by burial in Donabate Cemetery.
To view William's funeral mass please click on the following link:
https://olv.ie/webcam/
The above links are provided and managed by an independent Media provider. The Funeral Home accepts no responsibility for its functionality or any interruption to a live transmission.
Date Published: Thursday 12th January 2023Date of Death: Wednesday 11th January 2023
read more