Jennings Undertakers, Head Office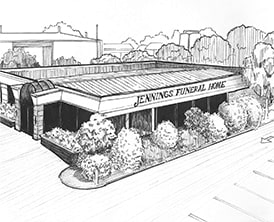 Jennings Funeral Directors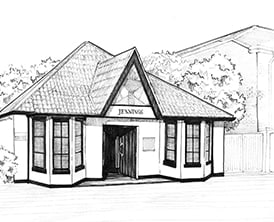 Whether the death of a loved one was expected or sudden, the passing of a life is always more of a shock than people realise until it happens. There are so many elements to organise for any type of funeral that people often tell us they feel quite overwhelmed.
Please feel free to call us with your questions at any hour of the day or night. We have experts on call at all times to provide answers for you. We can answer all of your questions, help you with every aspect of a funeral, and be a professional support for you when you need us most.
Dublin Funerals: The places we live. The locations we die. The people we honour. The Original Jennings, still at the Five Lamps - casting light in times of loss. The original Jennings Funeral Directors at Dublin's historical Five Lamps was large enough in...
read more
Paint thrown at the new Necrology Wall at Glasnevin Cemetery commemorating all who died in 1916. Here at Jennings Funeral Directors, we work in deep sensitivity around the wishes of the bereaved family in how their relative's actual names are commemorated, and so this...
read more
Cummins, Imelda (Nee Power) and Tommy (Thomas) (Ayrfield and formerly of East Wall and Store Street, Dublin)
The deaths have occurred of Imelda and Tommy on October 15th and 16th October 2021, respectively. In their 51st year of marriage, both passed away peacefully, in Beaumont Hospital, surrounded by their loving family.
Tommy and Imelda are loved and missed by their children John, Amanda and Kate, sons-in-law Colm and Dean, daughter-in-law Tracy, their beloved grandchildren Charlie, Luke, Jack, Chloe, Erin, Ollie and Bowie. Deeply regretted by their sisters and brothers, sisters-in-law and brothers-in-law, nieces, nephews, relatives, friends and neighbours.
May they Rest in Peace, together as always.
Reposing at their residence on Tuesday October 19th 2021, between 5.30pm and 7.30pm for close friends and family.
Removal to St Brendan's Parish Church, Coolock on Wednesday morning, October 20th, for Funeral Mass at 11am.
The capacity of the church is limited to 50%. Those who would like to view the service online can do so at 11am on Wednesday October 20th via the following weblink:
https://www.churchservices.tv/coolock
Following the funeral mass, the cortege will proceed to Dardistown Crematorium Chapel for a service at approximately 1pm, the capacity of the crematorium chapel is limited to 60 people, the service may be viewed by following this link:
https://www.dctrust.ie/location/dardistown/dardistown-chapel-webstreaming.html
Those who would have liked to attend but cannot due to current restrictions, please feel free to leave a message in the Condolence Book at the bottom of the page or send in condolences in the traditional manner.
The above links are provided and managed by an independent streaming company. The Funeral Home accepts no responsibility for its functionality or any interruption to a live transmission.
read more